Nearly 800 Norfolk County Council jobs at risk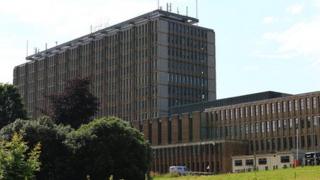 Nearly 800 jobs are set to go at Norfolk County Council over the next three years as the authority struggles to meet a £189m budget shortfall.
The council is consulting on the proposed 2014-17 cuts, which it has blamed on a £91m cut in government funding and the economic downturn.
The proposed cuts, will see the loss of 260 posts in the first year.
The council expects that a similar number of posts will be cut in each of the following years.
But the council has pledged not to close a single fire station or library or increase council tax.
The job cuts do not include possible staff reductions by firms commissioned by the county council to provide services - which may see their funding from the council drop.
Labour leader of the council George Nobbs, who heads a coalition made up of Labour, UKIP and Lib Dems, said: "This is a massive challenge and not something which is of anyone in Norfolk's making.
"We've been very tough in driving down our own costs, but I won't hide the truth - some painful cuts in services are unavoidable.
"I'd ask people to look at the proposals and let us know what they think. If they have ideas of their own, and alternatives they would like us to explore, then we promise to listen carefully to what they have to say."
The council said any job cuts would be managed through a mixture of redundancies and natural wastage.
Steve Morphew, Labour cabinet member for finance, said: "I know some of the proposals we are having to suggest will be difficult for people to live with and given the choice we'd prefer not to do them.
"We want to use the consultation period between now and December to canvass views. If we can come up with better ways of minimising the cuts we need to make we will."
The leader of the Conservative opposition group on the council, Bill Borrett, said the party was still looking over the details of the budget - which is now out to public consultation on the authority website and at local libraries.
"We are going through the proposals that they have set out," he said.