Michael Souter trial: Former BBC man 'was mentor to victim'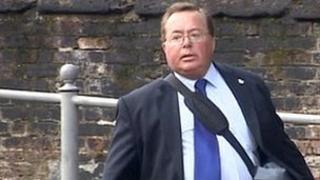 A former BBC radio presenter repeatedly abused one of his victims after they were introduced through social services, a court has heard.
Ex-BBC Radio Norfolk broadcaster Michael Souter, 60, denies sex offences against seven boys aged from 11 to 16.
Norwich Crown Court heard he he used his local celebrity and links to high-profile figures to pursue a "deviant sexual obsession" with young boys.
Mr Souter worked as a youth mentor for the county's social services.
He was also involved in the Scouting movement.
'No role model'
He is alleged to have committed the offences between 1979 and 1999.
One of his alleged victims, who cannot be named for legal reasons, told the court he was 10 or 11 when Mr Souter was assigned as his mentor.
"It was part of a social services scheme for people who did not have a male role model," the man said.
He said Mr Souter gradually began abusing him, escalating to full sexual intercourse.
He said the pair would go to a burger restaurant and enjoy days out.
On one visit to Pleasurewood Hills theme park near Lowestoft, Mr Souter introduced him to Noel Edmonds.
'First sexual experience'
"I assumed he knew him - he seemed to," the man said.
The man said he was regularly invited to stay the night at Mr Souter's home.
"He would invite me into his bedroom for a goodnight hug," he said.
"After a while it became a bit more than a hug. This was my first sexual experience."
The abuse continued over several years and Mr Souter began having full sex with him, the court heard.
The man said the abuse happened at Mr Souter's home, on caravan trips, at swimming pools and on visits to France, Holland and Spain.
'No action taken'
"In the days after the first time I felt physically weird and in pain," he said.
"I don't remember how many times it happened - 10 or 12 as a rough guess.
"After a while it all just rolled into one."
The man was spoken to by police investigating allegations of abuse in 1993 or 1994 but Mr Souter accompanied him to the police station, he said.
He reported abuse to police in 2002 but no action was taken until 2011.
Cross-examined by Andrew Hill, defending, the man said social workers monitoring the mentor scheme never spoke to him about the possibility of abuse.
Mr Souter, 60, from Loddon, Norfolk, denies 19 sex offences, including indecent assault, indecency with a child and serious sexual offences.
He presented a number of shows for BBC Radio Norfolk from its launch in 1980 until the 1990s.
Originally from Scotland, he worked as a producer and presenter in both commercial and BBC radio since the mid-1970s.
He had previously presented for Radio Clyde.
Since 1989 he has worked as a freelance broadcaster and runs a media relations consultancy.