Andrew Knights jailed over Dereham ammunition cache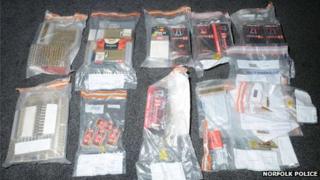 A former gamekeeper put lives at risk by stealing and stockpiling thousands of rounds of gun ammunition and pesticide canisters, police have said.
Andrew Knights, 47, stole more than 7,500 bullets and shotgun cartridges and possessed more than 5,200 rounds illegally, Norwich Crown Court heard.
Knights, of Dereham, Norfolk, also stored pesticide canisters illegally.
He admitted two counts of theft and one of possession and received a 15-month jail term, suspended for 18 months.
Knights was also fined £1,000 and ordered to carry out 200 hours of unpaid work.
Firearms certificate refused
Police seized Knights' firearms and ammunition in January 2012 following a domestic incident at his former home in Swaffham.
But he continued to obtain ammunition through his work, falsely telling his employer his guns had been returned.
When he left that job in April 2012, he agreed to return any property belonging to the farm.
After his firearms certificate expired in May 2012, Knights applied for a new one but it was refused.
In November 2012 police searched his home in Sandy Lane, Dereham, finding more than 5,200 rounds of ammunition and 36 canisters of Talunex, used to kill pests such as rats and rabbits.
Another search the following month uncovered 2,800 shotgun cartridges.
He pleaded guilty to all charges at Norwich Crown Court on 31 July.
After sentencing, Det Sgt Martin Clabon of Norfolk Police said: "Knights stockpiled this ammunition, taking advantaged of his former employer to build up a personal cache.
"Knights' actions put himself, his family, neighbours and visitors in danger."
Paul Cantwell, Natural England's species enforcement officer, said Knights' siblings' children had access to the property.
"The consequences for them if they had opened the flasks of Talunex are unimaginable," he said.
Mr Cantwell said that if a fire had broken out and water was used to put it out, the pesticide could have produced deadly phosphine gas.
"In my 15 years of investigating such cases, this is the worst case of storage of fumigants that I have come across," he said.