Women survive 'savage attack' from tree in Wolterton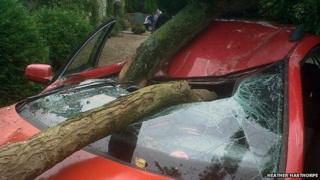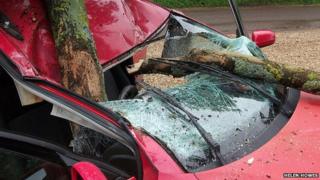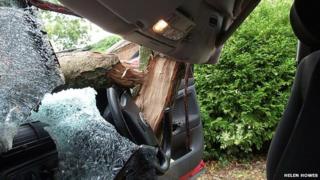 Two women have survived what they called a "savage attack" from a falling oak tree which smashed through the roof and windscreen of their moving car.
Helen Howes and Heather Hasthorpe were en route to a costume and textile fair at Wolterton Hall, Norfolk, on Saturday when the accident happened.
"The tree came through the windscreen and broke the wheel off from between my hands," said Mrs Howes.
A police spokesman said the friends were "very lucky" not to have died.
Mrs Howes, an artist based at Raveningham, near Beccles, was taken to hospital to be treated by a plastic surgeon who repaired a tendon and removed glass from her hand.
Mrs Hasthorpe walked away unhurt.
The tree fell at about 08:45 BST as the women were driving past the Saracen's Head pub, Wolterton.
Guests having breakfast at the pub called the emergency services.
Mrs Howes' car, a red VW Passat estate she calls the Red Baroness, was written off.
On her blog she described the car as being "savagely attacked by a falling oak tree".
"It was a fantastic impact, it pretty much stopped the car," Mrs Howes said.
"When we staggered out the tree was across the road leaving this big bush on top of the car. In retrospect it looked quite decorative, but we could have done without it."
Mrs Hasthorpe said it was "amazing" that the injuries were not more serious.
"That branch that came into the car beside her right leg and ripped off the door panel actually caused a burn to the skin on her right knee, that's how close it was," she said.
"It was definitely a guardian angel job."
PC Ian Reed from Norfolk Police said Mrs Howes was "incredibly lucky" to escape what "could have easily been a fatal incident".
"I did suggest she might want to get a lottery ticket after her experience," he said.
Mrs Hasthorpe said she did buy a ticket on the way home but did not win on Saturday night's draw.