Aiden Miles Vandenborn: Overseas 'troll' posted comments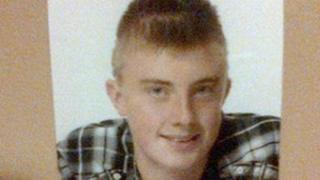 A "persistent internet troll" was responsible for "sickening" comments left on a Facebook page created in memory of a 17-year-old boy from Norfolk, a police investigation found.
Aiden Miles Vandenborn, who lived in the Downham Market area, died on 15 December 2012 when he was struck by a car on the A10 at nearby Bexwell.
His tribute page became littered with "malicious" comments and images.
Police said the troll was from outside the UK so no action will be taken.
A spokeswoman for Norfolk Police said: "Investigations lead police to believe the person responsible was a 'persistent internet troll', who is someone that posts inflammatory or upsetting messages on online forums."
She added: "The financial implications and police jurisdiction in a non-UK country were assessed and the ability to identify the person responsible and deal with them in the UK was not deemed to be a realistic line of inquiry."
In January, Supt Dave Marshall said accusations on social networking sites that the culprit was a "local young man" were false and malicious.
"It is sickening that someone would wish to post such comments at any time on social media, and especially on a tribute page to a young man who has recently died," he added.
The Facebook page has since been removed.