PCC's mental health arrest concerns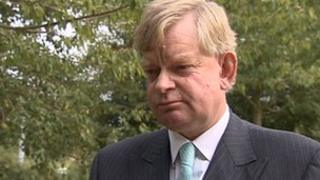 A Police and Crime Commissioner has voiced concerns about the use of police cells for people with mental health issues following a BBC programme.
A Panorama report found that in 2011-12, 9,000 people in England were detained by police under a power called section 136.
The section is used to detain people thought to be mentally unwell.
Norfolk PCC Stephen Bett said resources should be put into quick assessment of those arrested under the legislation.
He said: "Too often police officers and police staff are dealing with people with complex mental health needs rather than experienced and trained medical professionals.
"A police cell is not an appropriate place for someone suffering mental health problems."
'Using police time'
Mr Bett said that in Norfolk, almost all of the section 136 detentions being held in police custody occur because the person has consumed alcohol or because a hospital or healthcare centre has insufficient staff, particularly overnight.
"Dealing with mental health issues is taking up huge amounts of police time and detracting from the front line," he said.
Mr Bett said he was pleased the Norfolk and Suffolk NHS Foundation Trust had begun to work more closely with Norfolk Constabulary to share information more effectively, and develop training for police to better deal with people suffering from mental health issues.
He added: "At a time of austerity, now is the time for partners to work together to resolve these issues rather than participating in a 'blame game' or seeking to pass on responsibilities for service provision to other equally cash-strapped organisations."
In Norfolk between 2009 and 2011, 136 people were arrested under section 136.
The Association of Chief Police Officers says dealing with mentally ill people takes up a fifth of police time.