Norfolk County Council secret recording probably broke law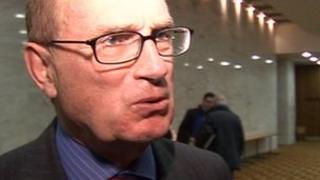 A council probably broke the law when its chief executive secretly recorded a telephone conversation with its leader, a report has found.
Former Norfolk County Council leader Derrick Murphy complained after the council's then chief executive admitted making the recording in April 2012.
The Information Commissioner's Office said it was "unlikely" the council had complied with the Data Protection Act.
The council said it would take steps to avoid the situation happening again.
Details of the secretly-recorded call first emerged in February at a council standards committee hearing into the conduct of Mr Murphy, a Conservative, who led the authority from 2010 until January this year.
The committee cleared him of accusations relating to an email sent to the BBC, but found he had brought his office into disrepute and ordered him to undergo ethics training.
David White, then the council's chief executive, told the hearing he secretly recorded the conversation with Mr Murphy on 27 April last year.
He said he did so after taking legal advice because he found Mr Murphy "constantly evasive".
Mr White took early retirement from the council in April, receiving a pay-off of £106,100, and Mr Murphy did not seek re-election as councillor for Freebridge Lynn in May.
In a statement, the Information Commissioner's Office (ICO) said: "Following a complaint made to our office, we have found it likely that Norfolk County Council breached the Data Protection Act by failing to inform an individual that their comments were being recorded.
"While this case appears to involve a one-off incident, we have asked the council to take steps to ensure that this problem does not occur again."
The ICO said it had decided that formal regulatory action was not required.
Mr Murphy said he was considering taking legal action against Mr White, adding: "His actions clearly brought Norfolk County Council into disrepute."
Mr White has yet to comment.
A Norfolk County Council spokesman said: "We will of course consider the findings of the Information Commissioner's Office and take any steps to prevent the situation from happening again.
"The council takes its data protection responsibilities very seriously and data protection training is mandatory for all staff."