Norfolk MPs Ofsted meeting 'disappointing'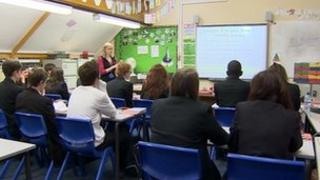 A group of MPs have defended meeting Ofsted to discuss Norfolk's failing schools after a council education chief branded it "disappointing".
Simon Wright, Liberal Democrat MP for Norwich South, was one of nine Norfolk MPs who met the watchdog.
He said tackling poor performance in schools was vital "to ensure young people get the services they deserve".
But Mick Castle, education and schools member at the county council, said he was not aware of the meeting.
"It's disappointing - but if they are of goodwill and they want to see us succeed we can work with everyone," he said.
"I didn't know they were at Ofsted, but to me we've got to work together and I think we will."
The council has announced an action plan pledging all schools in the county will be good or outstanding within three years.
In June, Ofsted said Norfolk County Council had a "big part to play" in failings at many Norfolk schools.
Only 64% of the 28 schools inspected in the county in March were judged "good" or better, compared with a national average of 78%, Ofsted said.
Mr Wright said: "The problems are sufficiently clear through three really quite damning reports from Ofsted that all parties need to work together to get to grips with a range of issues.
"We need to work with the county council, Ofsted and the government to ensure that every possible approach is considered and the problems are brought under control."
Members of the Children's Services Overview and Scrutiny Panel will meet on 19 September to hear details about the council's action plan to provide a good school for every child in Norfolk.
Mr Castle said: "Our role is to support and challenge schools to deliver the very best education for their students and this plan reflects the much earlier intervention and tougher action we are taking to ensure that Norfolk's schools improve."
He added: "Where we can see there's a problem in terms of performance... sometimes it means intervening with the governors to make sure they also get the message.
"Parents expect the best and the only way they'll get the best is if we take a fairly strong line on that."