Caterham expansion plan at Hingham to create 130 jobs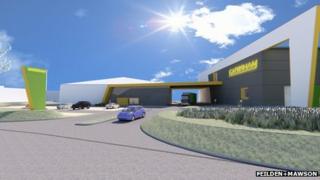 Sports car group Caterham hopes to create 130 jobs in Norfolk as part of a multimillion-pound investment in a new production factory.
The expansion could double the firm's workforce at Hingham, which is home to its technology and innovation centre.
Caterham has not yet specified which products it will make at the site, but the new jobs are believed to be in the engineering and manufacturing sectors.
Architects Feilden and Mawson said it could start work "before Christmas".
Caterham has not disclosed the exact figure it is spending on the 7,000 sq m (75,000 sq ft) facility, but according to the architects, it could be producing vehicles by the end of next year.
Stuart Jones, a partner at the Norwich-based architect firm, said: "It's going to be a very prestigious building which the company and town can be very proud of.
"It will give Caterham a high-profile presence in mid-Norfolk.
"It safeguards Caterham's position in Hingham and will allow them to expand and meet the aspirations of their long-term business plan."
The existing building, which has housed various motor sport teams over the past 20 years, will be linked to the new two-storey production plant.