Michael Souter trial: Former BBC man claims DJ sexually abused him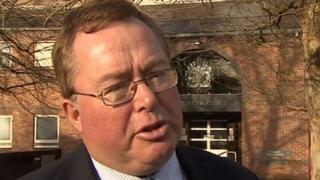 A man who worked at the BBC as a teenager has told a court that a DJ gave him alcohol before molesting him.
The alleged victim said he met BBC Radio Norfolk broadcaster Michael Souter after starting a casual job at the corporation in Norwich.
The man, who cannot be named for legal reasons, told Norwich Crown Court he began doing odd jobs at Mr Souter's home, where he claims he was abused.
Mr Souter, 60, of Loddon, Norfolk, denies 19 sex offences.
They include indecent assault, indecency with a child and serious sexual offences, against seven boys aged between 11 and 16, dating from between 1979 and 1999.
'I felt dizzy'
The witness's job, which lasted for about six months, involved helping DJs and sometimes travelling with them in a radio car.
"On one occasion he offered me and a friend a beer and we accepted - it was the first time I had drank alcohol," the man told the court.
"I felt dizzy and the room was spinning. I was feeling unwell and he took me upstairs to lie down.
"When I woke up, I was in a bit of a shock. My trousers were down and Mike had his hand on me.
"He said: 'Calm down, it's all right, don't worry'."
Jurors heard the man left his job at the BBC soon after and never returned to Mr Souter's house.
He said he did not tell anybody about the abuse because he had not wanted to be labelled as gay.
The court heard it was not until he was approached by police in 2011 that he spoke about the abuse.
Asked by defence barrister Andrew Hill if he had a false memory or had made up the incident, the man said: "No, not at all."
As well as presenting various BBC Radio Norfolk shows, Mr Souter was involved in the Scout movement and was a youth mentor for Norfolk's social services department.
'A conspiracy'
Originally from Scotland, he worked as a producer and presenter in both commercial and BBC radio from the mid-1970s. He had previously presented for Radio Clyde.
Since 1989 he has worked as a freelance broadcaster and runs a media relations consultancy.
Prosecutor Andrew Shaw has told the court Mr Souter used his status as a local celebrity to meet and abuse boys, many of whom were vulnerable.
Mr Souter says he is the victim of a conspiracy.
He denies he was attracted to young boys and said none of the alleged abuse happened.
The trial is expected to last six weeks.