Ex-BBC Radio Norfolk man Michael Souter 'used status to abuse'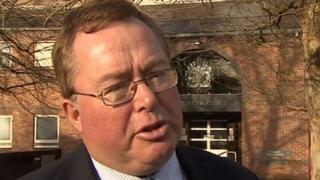 A former BBC radio presenter used his celebrity status to abuse boys aged between 11 and 16, a court has heard.
Michael Souter, 60, of Loddon, Norfolk, denies 19 sex offences, including indecent assault and serious sexual offences, against seven boys.
Prosecutor Andrew Shaw told Norwich Crown Court Mr Souter had also been involved in the scout movement.
Mr Souter presented a number of shows for BBC Radio Norfolk from its launch in 1980 until the 1990s.
'Deviant sexual abuser'
"He worked in radio and television and was something of a local celebrity," said Mr Shaw.
"The significance of his work and his involvement with the scouts and social services, is that these three roles brought Mr Souter into regular contact with pliable young boys and very often pliable young boys who were among society's most vulnerable.
"We say Mr Souter is a deviant sexual abuser of young boys."
The court heard Mr Souter took boys on trips to burger restaurants and theme parks and used his links with Norwich City Football Club to invite them to watch matches at Carrow Road, the court heard.
Mr Shaw said: "As an indication of how he used his position, on one trip to Carrow Road the defendant was able to introduce one of his victims to Noel Edmonds."
After one of these matches it is alleged Souter invited one of the boys for a drive in his camper van before asking him to "tickle" him.
"This was a case of gently introducing a very young child to sexual activity - he was grooming him, preparing him for what was to come," the prosecutor said.
Jurors were told Mr Souter had been spoken to by police in 1990 when another boy accused him of abuse.
'Sucked into evil'
Mr Shaw said mistakes may have been made by the authorities in the past, but added: "As we have seen in recent high profile cases, victims often only tell what has happened to them when they are ready to."
Mr Souter told police he had been the victim of a conspiracy and some of the victims had been "sucked into the evil" of the others and "jumped on the bandwagon".
He denied he was attracted to young boys and said none of the incidents happened.
Mr Souter, who was originally from Scotland, worked as a producer and presenter in both commercial and BBC radio from the mid-1970s. He had also previously presented for commercial station Radio Clyde.
Since 1989 he has worked as a freelance broadcaster and ran a media relations consultancy.
The allegations date between 1979 and 1999.
The trial, expected to last six weeks, continues.