Great Yarmouth Vauxhall Bridge revamp phase 1 near completion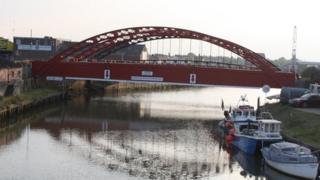 The first phase of the restoration of a Grade II-listed bridge in Norfolk once feared to be beyond repair will be completed by the end of this month.
The £643,000 project to restore the eastern span of the Vauxhall Bridge in Great Yarmouth began last November.
The restoration of the Victorian bridge includes new cycle and footpaths.
Engineers surveying the structure in 2010 said it was possibly beyond repair but public and private organisations came forward with the necessary funds.
Metal work has been repaired, lead paint removed and the bridge has been repainted red.
The restoration has been paid for by a £295,000 lottery grant, as well as funds from local councils, the Railway Heritage Trust and others.
Bernard Williamson, Great Yarmouth Borough Council's cabinet member for transformation and regeneration, said: "Vauxhall Bridge is the first iconic heritage structure seen by the thousands of tourists arriving at Great Yarmouth each year and it really stands out now with the new coat of paint."
He added that the council would now help the Great Yarmouth Preservation Trust obtain further funding to restore the western span.
The suspension bridge, which opened in 1852 and was modified to take trains in 1886, is now owned by the sustainable transport charity Sustrans.