Age UK Norfolk scheme to help cut patient stress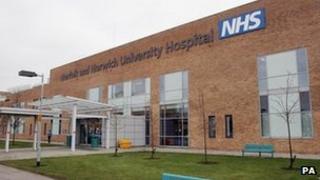 A scheme to help relieve stress in elderly patients in hospital is being pioneered in Norfolk.
Charity Age UK is working with the Norfolk and Norwich University Hospital to provide advisers to visit and speak to older patients.
It is hoped that by removing any stress created by their spell in hospital, the patient can concentrate on getting better.
Advisers will visit the hospital three times a week, offering bedside support.
'Addressing anxieties'
Dr Peter Forster, chairman of Age UK Norfolk, said: "If this project is effective we would hope to extend the work to include other acute hospitals in Norfolk as well as the extensive network of community hospitals operated by the Norfolk Community Health and Care NHS Trust."
The service will also be available to visiting family members and carers who would like information and advice on how to support older relatives and friends.