Ken Wallis: Tributes paid to James Bond stunt pilot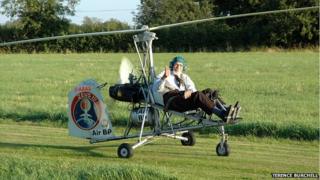 Tributes have been paid to James Bond stunt double and war hero Wing Cdr Ken Wallis.
Mr Wallis, a keen autogyro pilot who lived near Dereham in Norfolk, died on Sunday aged 97.
Biographer Ian Hancock said Mr Wallis was "humorous, had a brilliant mind and always had a compassion for others".
Barry Freeman of the Norwich Gliding Club said he was a "total gentleman" whose "eyes still shone when he talked about flying".
Born Ken Horatio Wallis in Ely in April 1916, he nurtured his love of speed from the age of 11 when he started helping at his father's motorcycle business.
'Miraculous crash landings'
During his teens he went on to design and race powerboats, progressing to sports cars and eventually aeroplanes, joining the Royal Air Force at the start of World War II.
Mr Hancock, chairman of the Norfolk and Suffolk Aviation Museum, said: "Ken certainly loved speed. He was always fascinated with engines and tinkering to make them go faster or be more efficient.
"As a person he was totally engaging and had a compassion for others. He was regularly shot at piloting bomber aircraft and always remembered those who didn't come through the war.
"It was an extremely arduous task which he followed through with his usual determination. He had some miraculous crash landings in aircraft with a wing almost torn off, or riddled with bullet holes."
Honoured with an MBE in 1996, he piloted 24 wartime missions over northern Europe in Wellington bombers, before spending 20 years engaged in weapons research in the RAF.
'Boundless energy'
In October Mr Wallis was honoured for his outstanding lifetime contribution to aerospace by the Guild of Air Pilots and Air Navigators.
His Honour Judge Tudor Owen, master of the guild, said: "I remember him as a man of great ingenuity, boundless energy and perseverance.
"He's somebody who was such a character, who lived a full life from beginning to end."
After leaving the RAF Mr Wallis combined his passion for photography and flight to help police in aerial reconnaissance, and was involved in the search for Lord Lucan.
In 1967 he doubled as Sean Connery's Bond in You Only Live Twice with an autogyro flying sequence over Kyushu, Japan.
Mr Wallis will be laid to rest at a private family funeral. A celebration of his life will be held Old Buckenham Airfield on 29 September.