Norwich northern bypass single carriageway section rejected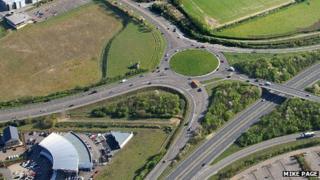 Plans to make a short section of a new Norfolk bypass single carriageway to save money have been rejected.
The £111.1m Northern Distributor Road (NDR) around Norwich will go from the A47 at Postwick on the east of the city to the A1067 Fakenham road.
The idea was to make a short section near the A1067 single carriageway to save £1.5m.
County councillors in cabinet said the section would become a bottleneck and the idea was thrown out.
James Joyce, chair of Norfolk's transport committee, said: "It was the right and logical solution to reject a single carriageway section because that would have created bottlenecks.
"It is going to be a proper distributor road and a dual carriageway."