Norfolk Bat Survey: 250,000 recordings made by public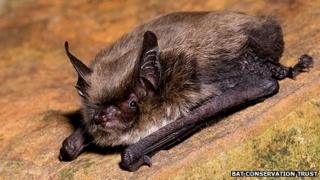 More than 250,000 recordings of bats have been received by researchers from the Norfolk Bat Survey.
The survey, set up by the British Trust for Ornithology (BTO), aims to create the most accurate picture of bat distribution in the county.
The public have been able to borrow equipment from bat monitoring centres, such as libraries and nature reserves since the project began in April.
So far 13 species of bats have been recorded by the acoustic equipment.
Dr Stuart Newson, BTO senior research ecologist, said the number of people helping with the survey was "encouraging".
He said: "There is no project like this anywhere else in the country.
"I knew if the project worked we'd get 100,000 or more recordings. It has worked."
Dr Newson said they had received about 400 recordings of the Nathusius' pipistrelle, mostly around the Broads, of which there previously had only been "a handful" of records.
Researchers were also hoping to positively confirm the presence of the Alcathoe bat, which would be a new species for the county, and was only discovered in the UK in 2010.
However, although early analysis of recordings revealed signs of the bat, Dr Newson said they needed to catch one to confirm the identification.
Finding the Alcathoe bat was "a bit of a needle in a haystack", he said.
According to researchers at the University of Leeds the UK now has 17 species of bat, all of which are protected by law due to their declining numbers.