Cromer crab processing returns to Norfolk seaside town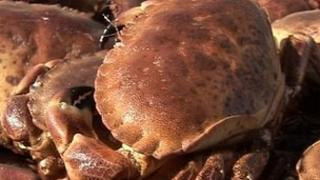 Large-scale crab processing has returned to a Norfolk seaside town famous for its crustaceans a year after its last major factory shut down.
Jonas Seafoods has expanded its company into Cromer and its new site on Holt Road will be formally opened on Friday.
Twenty-two workers are currently working at the plant, with the numbers expected to double next month.
A total of 230 people lost their jobs at the former Cromer Crab Factory despite a big campaign to keep it open.
The plant, which was owned by Young's Seafood, has since transferred its operations to Humberside.
Some of the workers at the former plant have been re-employed by the new firm.
North Norfolk District Council leader, Tom FitzPatrick, said: "I am delighted that North Norfolk District Council has been able to help with this significant expansion of Jonas Seafoods, bringing large-scale seafood processing back to Cromer.
'Support industry'
"We tried hard to forestall the closure of the Cromer Crab Company, but when that became inevitable we were determined to work just as hard to bring about a replacement processing facility.
"This new facility will help not just to safeguard and promote the unique Cromer crab and lobster brand, but also support the local inshore fishing industry and many associated local jobs and families at the same time."
Jonas Seafoods plans to eventually transfer all its operations from nearby East Runton to Cromer, the council said, and will continue to concentrate solely on local produce.
Celebrities including Delia Smith and Stephen Fry campaigned to keep the former Cromer Crab Factory open, but the plant became unprofitable after the price of imported shellfish - which contributed to the majority of the plant's output - increased.
The factory was put on sale last September, but so far it has not been bought despite interest from a number of parties, the council said.
Cromer crabs have been a delicacy on the north Norfolk coast for centuries, being known for their sweet taste.