Chloe Smith MP's office sent white powder in post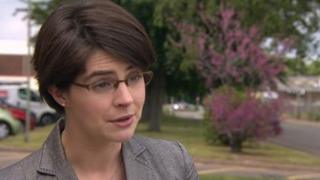 An MP says it was "very distressing" to have had an envelope filled with a suspicious white powder sent to her constituency office.
Chloe Smith, Conservative MP for Norwich North, said a member of staff opened the mail last Friday, prompting a call to the police.
Officers investigated the package, but found it contained a protein powder.
The Serjeant at Arms has sent out a warning to all MPs reiterating what to do in similar circumstances.
Ms Smith, who has held her seat since 2009, said her staff had received training on how to deal with suspicious packages earlier in the year.
'Very distressing'
"As an MP you expect to be able to get on with your job of serving your constituents without coming under physical attack, which is what letters like this are even if they do turn out to be hoaxes," she said.
"It is very distressing and extremely disturbing and, all in all, it's just not acceptable."
Alice Saunders-Eaves, who opened the letter, said: "I opened the outer envelope, pulled out a smaller white envelope and at that point I was aware of a white powder leaking from the smaller white envelope.
"I immediately put the piece of paper down, moved into an outer office room and telephoned the police.
"It was a shock. I do know what advice I should be following and I think it's a very rare event. I don't think it will happen again."
A Norfolk Police spokesman said: "The package has been examined and the contents analysed and not deemed to be harmful.
"At no stage was there any threat to the surrounding community, however investigations are ongoing to identify the sender."