Stocksbridge goalkeeper helps save life of King's Lynn fan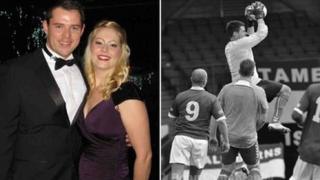 A non-league goalkeeper helped save the life of a fan who had collapsed in the stands, minutes after he was shown the red card for a dangerous tackle.
Ben Scott, keeper for Stocksbridge Park Steels was sent off near the end of Saturday's Northern Premier League match away to King's Lynn Town.
The King's Lynn fan, a man in his 70s, had a suspected cardiac arrest and Mr Scott, a staff nurse, went to help.
Mr Scott, 29, helped the St John Ambulance team to stabilise the man.
'Fantastic teamwork'
"I started walking off the field, getting a nice bit of abuse as you do, when I noticed a young girl running past me," said Mr Scott, who works at Doncaster Royal Infirmary alongside playing for the South Yorkshire club.
"She said, 'a gentleman's died', so I followed her into the crowd and came across the gentleman on the floor.
"His heart was in an irregular rhythm."
Mr Scott said he and the St John Ambulance crew were able to give him a shock which put his heart into a normal rhythm.
"It was a fantastic bit of teamwork that gave that gentleman a fighting chance," he said.
"You've got to bear in mind that these guys [St John Ambulance] do it for free - they were fantastic.
"It does put things into perspective - you do realise that football is only a game."
The man was taken to Queen Elizabeth Hospital in King's Lynn.
A spokesperson for St John Ambulance said the man had recovered and was now back at home.
The game between Stocksbridge and King's Lynn ended in a 3-3 draw.