Bridgham solar farm: Campaigners brand plan as 'ill-conceived'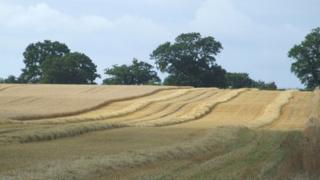 Residents in Norfolk are fighting plans for a solar farm which they say will "dominate" their village.
The proposals will see 144,288 solar panels installed on 174 acres at Hall Farm and Field Barn Farm in Bridgham, which has a population of about 330.
Applicant firm Rethink Energy said the project would create no noise or waste and would not have any impact on houses as it would be camouflaged by hedges.
Local people say the site is too near to the village and properties.
'Eyesore'
Mike Brown, who is leading the campaign against the project, said that 96% of the people in the village had objected to the plans.
"It's a visual eyesore... ill-conceived and wholly and utterly stupid," he said.
Resident John Besent said: "The site is hard up against the village.
"It's only separated from the village's former forestry cottages by a narrow grass track."
Another villager, Valerie Watson-Brown said the site was three times the size of the village and that "none of the energy will be used in the village."
But Rethink Energy disagreed, saying the energy generated would "primarily supply Thetford and Bridgham".
Director Joel Tomlinson said: "This is expected to supply around 10,000 local homes and businesses with green electricity."
He said there would be other environmental improvements, such as the solar panels being raised high enough to allow sheep to graze underneath, and traditional Brecks heathland re-created to encourage the nesting of rare birds called stone curlews.
"The enhanced and secluded site will provide an important local refuge and feeding ground for rare bird species, encourage wildlife to return and even provide a sound agricultural basis through the grazing of sheep," Mr Tomlinson said.
However, Mr Besent is not convinced, and believes the solar farm would have more than just a physical impact on the village.
"I believe the solar farm would undermine residents' pride in their village and their sense of place."
"It would certainly undermine mine," he added.
The scheme goes before Breckland District Council at the end of September.