Queen Elizabeth Hospital in King's Lynn inspected again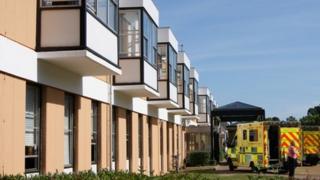 A hospital ordered to improve after failing to meet five key standards has had a return visit from inspectors.
The Care Quality Commission (CQC) said on Wednesday that failings at the Queen Elizabeth Hospital in King's Lynn were "a real concern".
That report was based on visits in May, but the hospital said the CQC had been back within the past two weeks to conduct further inspections.
It said it expected their report to be published next month.
In this week's report, the CQC said failings in three specific areas, including staffing, were having a major impact on the hospital's patients.
Kate Gordon, chairwoman of Queen Elizabeth King's Lynn NHS Trust, said the hospital now had an excellent nursing staff and apologised to everyone who had received a poor service.
She said it had been difficult to recruit staff, especially newly-qualified UK staff who preferred to go to larger hospitals in cities or to teaching institutions where they could expand their skills.
"The Queen Elizabeth in King's Lynn is a smallish district hospital in a mainly rural area," she said.
The hospital had now recruited staff from Portugal, she said, but it took time to train them and bring them up to the required standard.