Manx Grand Prix: Paralysed champion Phil Armes back on a bike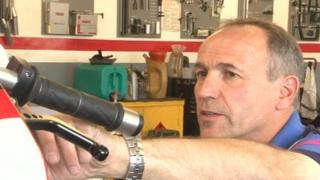 A former motorcycle racing champion who was paralysed in a crash is to ride a lap of the Isle on Man on a specially-adapted machine.
Phil Armes, 54, of Hellesdon, Norfolk, broke his back in a crash 18 years ago and did not ride again until April.
Next week he will be one of 65 former Manx Grand Prix champions to ride a special lap of honour.
"The feeling I used to have when I was racing is coursing through the blood again," he said.
"It's brought a big smile to my face," he added.
Mr Armes has no feeling from his chest down after crashing at 120mph in the 1995 Ulster Grand Prix.
'It's the challenge'
For his return to the Isle of Man, he will be riding a specially-adapted 650cc Suzuki bike.
His feet and legs will be strapped to the machine and he will brake and change gear using controls on the handlebars, rather than pedals.
He will have helpers at the start to lift him on to the machine and hold him up, and at the finish to catch him when he stops.
The lap of honour of the 37.5 mile (60km) road circuit will be speed-controlled, but Mr Armes believes he may still reach 100mph (160km/h).
"The speed as such is not a great thing - it's the challenge of the whole circuit," he said.
"It's up hill and down dale. We go over the mountain and over a little thing called Ballaugh Bridge where everybody pops a wheelie.
"That's one thing I won't be able to do this time."