Queen Elizabeth Hospital, King's Lynn, ordered to improve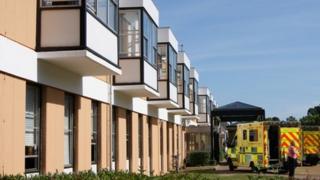 A Norfolk hospital has been ordered to improve after failing to meet all five key standards in an inspection report.
The Care Quality Commission (CQC) said failings at the Queen Elizabeth Hospital in King's Lynn were "a real concern".
They said issues in three specific areas, including staffing, were having a major impact on patients.
The hospital said it shared the inspectors' concerns and had already acted to address them.
CQC inspectors visited the hospital on three days in May.
'Rushing about'
They ordered improvements across nine specific areas, but were most concerned with staffing, consent to care and treatment, and how the hospital assessed and monitored the quality of service.
They found there were not enough qualified, skilled and experienced staff to meet patients' needs.
In the week before the inspections, there were staff shortages on three inpatient wards.
Accident and emergency patients made positive comments about staff, but said there were "too few of them" and they were "rushing about."
On Necton ward, which treats patients with dementia, inspectors heard patients had been restrained but these incidents had not been properly recorded.
The hospital did not have an effective system to regularly assess and monitor the quality of service patients received, inspectors said.
'We're very sorry'
So-called "never" events - serious safety incidents that should never happen - were not properly investigated.
Andrea Gordon, deputy director of operations (regions) for CQC, said: "Although our inspectors saw some good practice, the failings we found at the Queen Elizabeth Hospital are a real concern.
"CQC has been working to ensure the safety and wellbeing of people receiving this service and we have told the trust changes need to be made."
Kate Gordon, chair of The Queen Elizabeth Hospital King's Lynn NHS Foundation Trust, said: "We are obviously very concerned by the findings of the CQC inspection.
"Our aim is always to provide safe, high-quality care and we are very sorry that, in some cases, patients, carers and families have experienced poor care."
She said the trust had commissioned an independent review of systems and processes, and had already taken steps to improve.
She added 40 registered nurses had joined in June and July with a further 40 being recruited, along with additional newly-qualified nurses starting in September.
Four more accident and emergency consultants were being recruited, additional training was being provided, and the hospital was making its complaints and patient liaison services more visible, she said.