Norfolk experts' ash dieback 'citizen science' project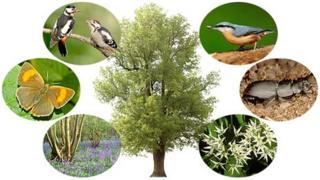 Norfolk researchers hope a "citizen science" project will help identify trees resistant to ash dieback.
Last year, the team at the University of East Anglia (UEA), Norwich launched a smartphone "AshTag" app to allow people to report the disease.
More than 12,000 people have downloaded the app since its launch in October.
Now the scientists are asking people to physically tag ash trees and submit images using an updated app so they can monitor the trees' long-term health.
The university said it hoped the scheme would become "one of the country's biggest citizen science projects".
'Ash stewards'
More than 1,000 suspected dieback sightings have been reported using the app.
Chris Blincoe, from the Adapt Group at UEA, said: "With new phase of AshTag, people can play a more active part in helping to fight back against ash dieback."
UEA scientists are asking people to seek landowners' permission to put aluminium tags on ash trees and upload details of them to the app.
Mr Blincoe said he hoped the public would "become stewards for the nation's ash population" and submit photographs of them over the years.
Using the information, the scientists "can begin to understand how the disease progresses through trees at different stages of maturity and investigate why some trees remain uninfected for no clear reason," he added.
The results will be shared with other researchers, including those at the John Innes Centre in Norwich which launched a computer game to fight the disease earlier this month.
In March, the government said it would plant a quarter of a million ash trees in an attempt to find strains that are resistant to the fungus responsible for ash dieback.