Norwich Briar Chemicals workers suspend plan to strike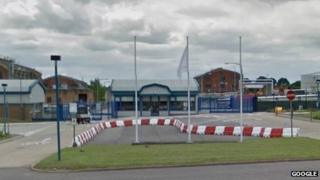 A strike over pay and working hours at a Norfolk chemical plant has been suspended after last minute talks.
The GMB union planned to call out 124 members at Briar Chemicals on Sweet Briar Road, Norwich, for six hours.
The company has now dropped two conditions attached to a deal and a new offer has been presented.
The deal will be put to workers over the next week ahead of a ballot. The firm said it believed this would allow a settlement to be agreed this month.
The firm had offered a blanket salary rise of £1,000 for workers it said already earned £40,000 a year. A £300 bonus was offered if staff achieved production targets.
Briar's operations manager Ashley Taylor said: "We are pleased that we have been able to work with the GMB to reach an agreement to avert industrial action.
"The GMB will be balloting their members on our offer in the coming week. We believe this will allow us to reach a settlement."
'Undesirable and unfeasible'
The GMB said its members working in all parts of the plant were seeking modest percentage pay increases that had no strings attached.
Members voted to reject the one-off payment, the bonus and requests for agreements to allow their contracts, terms and conditions of employment to be open to renegotiation.
Union organiser Ivan Mercer said: "This is undesirable and unfeasible in the proposed timetable of April 2014.
"Last minute talks with the company led to a new pay offer.
"I am putting that offer to the members across the site at mass meetings tomorrow, Friday and next Tuesday. We will know the result of the ballot on Wednesday 28 August.
"With the strings gone I believe that the members will be more receptive to the offer but it is their decision whether to accept it or not."
About 250 people work at the site which was previously owned by Bayer CropScience, but was bought last year by German-owned group Aurelius.