Bernard Matthews wind turbine plan withdrawn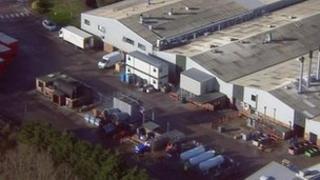 Plans to build a wind turbine on land in Norfolk owned by turkey producer Bernard Matthews have been withdrawn.
The firm wanted to build a community-owned 252ft (77m) high turbine at Oulton Airfield under plans submitted to Broadland District Council.
But the Ministry of Defence (MoD) objected, saying the RAF's radar system at Trimingham would be affected.
There are to be further talks with the MoD to see if a solution can be reached and the application resubmitted.
Bernard Matthews and its partner Energy4all, submitted the planning application in February.
'Well chosen'
Project manager John Malone said: "Energy4all is disappointed to confirm that the planning application for the single community wind turbine at Oulton has been withdrawn.
"We will continue to seek a resolution to the MoD's objection, with the intention of resubmitting the application at an appropriate time."
Bernard Matthews had said it believed the Oulton site was "well chosen".
In March, the company was ordered to re-plant 342 trees it had felled without a licence in preparation for the proposed turbine.
The company is hoping to build six community-owned turbines throughout the East of England, giving residents the chance to become a shareholder in the scheme as part of a new co-operative.
Three more planning applications have been submitted, with turbines planned for Wreningham in Norfolk, and Manby and Pinchbeck in Lincolnshire.
All the applications have faced objections.