Briar Chemicals workers to strike at Norwich plant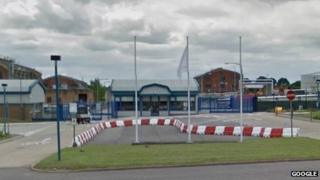 Workers at a chemical plant in Norwich are due to go on strike on Tuesday as part of a pay dispute.
The GMB said 124 members at Briar Chemicals were expected to walk out between 15:00 and 21:00 GMT.
The plant, on Sweet Briar Road, manufactures herbicides and a veterinary product.
The union said members wanted a "modest percentage pay rise" but the company said it already paid generous salaries and had made a fair pay offer.
Ivan Mercer, GMB organiser, said Briar Chemicals was a thriving, multi-million pound company.
'Undesirable and unfeasible'
"GMB members continue to perform well for the company and want a modest percentage pay rise consolidated into their basic rates," he said.
"GMB has asked the company to agree that all future pay awards will be percentage-based and not one-off payments."
He said the company also wanted to renegotiate workers' terms and conditions by next April, but that this was "undesirable and unfeasible".
A spokesman for Briar Chemicals said about 250 people worked at the site, and that it had offered GMB members a lump sum of £1,000, plus a £300 bonus if manufacturing targets were hit.
He said salaries were already generous, with qualified shift operators earning nearly £40,000.
"Our aim is to remain competitive with other similar-sized UK companies in order to attract new business and protect the long-term future of jobs on the Norwich site", he said.
"It is for this reason we are not in a position to offer an increase on salaries, which are already at the top end of the UK chemical sector."
The factory was previously owned by Bayer CropScience, but was bought last year by German-owned group Aurelius.
Management and the union are due to hold talks on Tuesday morning aimed at averting the strike.