Norwich northern bypass deemed 'nationally significant' by government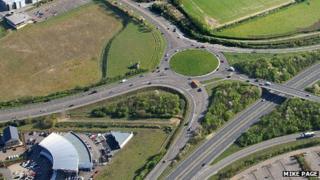 Norwich's northern bypass could open in less than three years' time after being placed on the government's list of Nationally Significant Infrastructure Projects (NSIP), it has been confirmed.
Transport Secretary Patrick McLoughlin said the northern distributor road (NDR) would boost business, including Norfolk's offshore energy industry.
Norfolk County Council leader George Nobbs called it a "significant step".
But campaigners said the move made a "mockery" of the consultation process.
In 2011, the Department for Transport (DfT) said it would provide £86.5m towards the NDR, which is proposed to run from Postwick on the A47 and travel around the east and north of the city to connect with the A1067.
A letter from the DfT to Norfolk County Council said the government was now treating the road as a project of "national significance" because it would support growth, provide a link to Norwich Airport and improve connections to the offshore energy industry at Great Yarmouth.
'Vital infrastructure'
Being an NSIP means permission for the road will bypass the county council's planners and go straight to the independent Planning Inspectorate, avoiding any delays from a local public inquiry.
It will also speed up other matters including the compulsory purchase of land.
The council is due to submit planning permission for the bypass in November.
A three week inquiry into improvements on the Postwick junction, in preparation for the new road, took place last month, with a result expected in October.
However, if the junction scheme fails, the new ruling means that work could still continue on the NDR until a new measure is proposed.
Mr Nobbs, Labour, said: "This is a significant step in improving Norfolk's vital infrastructure.
"This sort of project is essential if we are to improve our economic prospects."
But Stephen Heard, from Stop Norwich Urbanisation (SNUB), said: "To make this announcement before the outcome of the inquiry into the [Postwick] slip road has been announced just blows a hole in the whole democratic process."
He added that residents living around Norwich Airport had also yet to be properly consulted on the plans, calling the announcement a "mockery".