Norwich John Innes Centre finds cave spiders under manhole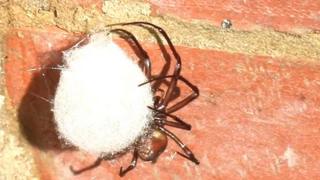 A colony of rare spiders which normally live in caves and tunnels has been found under a manhole cover in Norwich.
The Meta bourneti species of cave spider live in total darkness but about 20 have been spotted at bioscience research site John Innes Centre.
Cave spiders are among the biggest spiders found in the UK and can measure up to 7cm (2.8in).
Dr Ian Bedford, head of entomology, said: "It's amazing seeing these things in a manhole."
The Meta bourneti species is "very rare" according to the centre, with just two previous recordings in Norfolk.
The "gruesome-looking" spiders with spiky long legs were spotted by engineer Richard Bruce when he lifted the cover to examine the centre's swimming pool filter system.
He was surprised by what he saw but did not have to go far to identify the creepy-crawly and called his colleague Dr Bedford, who last year discovered giant "killer slugs" in his garden.
"[It is] a relatively new building compared to caves where these things are normally found," said Dr Bedford.
"They are not often seen as they are what we call photophobic.
"They fear the light, they live in caves in total darkness and therefore it's not often that you come across them."
The females are bigger than the males, are active hunters and normally feed on small insects.
They can bite if provoked but are typically harmless.
Most of the females living under the manhole cover were guarding egg sacs, which are pear-shaped silky bags, attached to the bricks.
It is not known how the spiders ended up at the centre, but newly hatched spiderlings run towards the light before they become averse to it as adults and disperse from their native colony.
Dr Bedford said one theory is the creatures may have been transferred to the manhole on the clothes of someone working in the shaft.
"They normally inhabit totally dark places so it really is a mystery," said Dr Bedford.