Sea Palling lifeguards save girl from powerful rip tide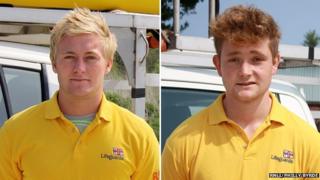 A 14-year-old girl who cannot swim has been saved by RNLI lifeguards after she was dragged out to sea by a "powerful" rip tide off the north Norfolk coast.
The girl, from Northamptonshire, was swept off a sandbar with a friend at Sea Palling on Tuesday afternoon.
Lifeguard Max Moore, 19, from Trunch, swam 164ft (50m) out to sea to rescue the pair.
Mr Moore towed the girl back to shore but her male friend was able to swim back unaided. She was not injured.
Mr Moore, who has been patrolling the beach for four summer seasons, said: "With an incoming tide, water flows quickly over the sandbar and creates a dangerous rip current, dragging in an arc off the sandbank and out to sea.
As he went to talk to the girl and her friend about the dangers "they were suddenly swept off the sandbar and into the much deeper water alongside it", the RNLI added.
'Emerging danger'
After getting the teenager back to shore lifeguard George Griffin helped perform first aid.
The RNLI said the girl had inhaled "a significant amount of water" and she was given oxygen by the lifeguard team before an ambulance arrived.
Lifeguard manager Vince Pank said: "The RNLI classes a rescue as a 'life saved' when we believe that a casualty would not have survived without our help.
"Thanks to Max spotting the emerging danger he was well positioned to respond quickly when the incident happened."