James Paget University Hospital 'may cut 600 jobs'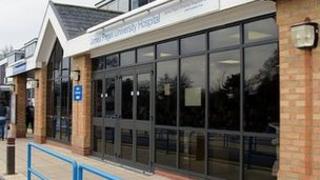 A hospital trust based in Norfolk has warned it may have to cut staff numbers by 600 to deal with a "perfect storm" of rising demand and funding cuts.
James Paget University Hospitals NHS Trust, based in Gorleston, said it was at risk of no longer being "clinically viable" as a stand-alone hospital.
The trust needs to save at least £20m by 2018 and said nearly a quarter of its workforce may have to go.
It said it would look to share more services with other local hospitals.
'Biggest challenge'
The trust's five-year strategy document warns that the period will be "extremely challenging", requiring "brave and bold" decisions.
"The single biggest challenge we face on our services will be the significant increase in our elderly population and the number of patients diagnosed with dementia," it states.
The trust already has one of the highest percentages of patients with dementia in the country.
The number of over-65s in the Great Yarmouth and Waveney area is forecast to rise by 19,000 to 72,000 by 2030, an increase of 35.9%.
The trust said its primary concern was to protect its core services, but warned that budget cuts would force it to close beds.
It said it needed to further develop partnerships with local hospitals, including the Norfolk and Norwich University Hospitals Foundation Trust, which would provide services including oncology, paediatrics and dermatology.
'Perfect storm'
Other services, including maternity, stroke care and haematology, could be shared across the two hospitals.
Trust chairman David Wright said: "We cannot hide from the fact that the entire NHS is facing what some have called a 'perfect storm' - rising demand from a growing older population at a time when billions of pounds needs to be saved."
Chief executive Christine Allen said: "We need to make sure our care for patients is safer and more efficient and we need to work closely with our partners to move the right care closer to home.
"We will need to save at least £20m by 2018. This means that we need to cut costs, redesign our services, get the best out of our staff and develop a strong culture of openness and accountability."
The trust said it was keen to minimise compulsory redundancies, but that as a "working assumption" it would need to cut about 600 staff.
It said it would also have to review staff terms and conditions in order to curb its annual wage bill of more than £110m.
Sala Millican, branch secretary of Unison, said it had been assured "frontline" staff would not be cut, but that it took many different specialities to ensure a hospital ran efficiently.
"We as a union are also very concerned about the increasing fragmentation of services in the NHS, including the James Paget University Hospital, as a whole," she said.
"We are concerned that the general public will one day attend the hospital only to find the service they require is no longer there."