UEA lake body identified as Lithuanian woman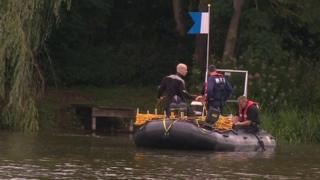 A woman found in a lake in Norwich last week has been identified.
Dive teams searched the University of East Anglia (UEA) Broad for clues to her identity after her body was found by an angler on 1 August.
They had hoped to find a personal item that would identify her, but this did not happen.
However, police now say the woman has been formally identified as a 43-year-old Lithuanian national who had been living in the Norwich area.
'Very upsetting'
Det Insp Richard Graveling said the death continued to be treated as unexplained.
He said: "This is a very tragic set of circumstances and a very upsetting time for the family, who now need to come to terms with the loss of their loved one.
"I would like to offer my thanks to the media in keeping this case in the public eye which has undoubtedly helped to solve this mystery."
He said no further details would be released until the woman's extended family had been informed.