Norwich clubbers warned of nitrous oxide dangers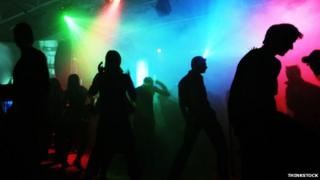 Clubbers inhaling the "laughing gas" nitrous oxide from small canisters to experience a "high" have been warned they could die from doing so.
Police confirmed empty canisters were found after a riot in Norwich's Prince of Wales Road last weekend.
The gas is used in dentistry and to boost the power in vehicle engines, but it can also be consumed as an inhalant.
Norfolk trading standards officer Duncan Harris said when used in this way "it can be extremely dangerous".
Due to the gas's "significant health risks" it is covered by the Intoxicating Substances (Supply) Act 1985, making it illegal to sell it to a person under the age of 18.
Mr Harris said finding the cartridges in Norwich was "very worrying".
"Nitrous oxide has all sorts of legitimate uses, but when it is used in this way, it can be extremely dangerous," he said.
"People have been known to die from asphyxiation and if the gas is used directly from a canister it will be very cold and capable of freezing the nose, lips, throat and vocal cords."
The latest Crime Survey for England and Wales into drug misuse revealed 6.1% of young adults aged 16 to 24 had taken the gas in the past 12 months, making it second only to cannabis in its popularity.
Ed Brown, Norfolk Police licensing inspector, said: "Our message is very clear: If we see gas canisters being misused we will look at seizing them for safety, and we will assess the safeguarding of those involved."
A number of empty canister were also discovered following a recent rave in Swanton Abbott near North Walsham.