University of East Anglia lake body remains a mystery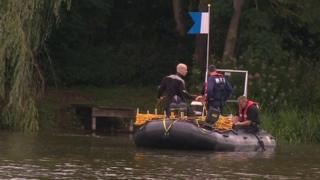 Police divers making a search of a Norwich lake where a woman's body was found by an angler have failed to uncover any clues to help identify her.
The dive team searched the University of East Anglia (UEA) Broad after the woman was spotted on 1 August.
A mobile phone was recovered from the bottom of the lake but almost certainly belonged to a student, police said.
Det Insp Richard Graveling said although it was "disappointing" not to find anything they remained optimistic.
They had hoped to find a bag, purse or other item that might identify the woman.
Searches on land and in the water have uncovered no clues, while tests, including fingerprints and DNA, have also failed to reveal the woman's identity.
'Unusual' case
University bosses have ruled out the possibility she was a student or member of staff and police say the case is not linked to any missing people inquiries in Norfolk, Suffolk or Cambridgeshire.
The woman was believed to be in her late 30s to early 40s, was 5ft 7in tall, had short dark brown hair that appeared to be dyed auburn or deep red.
She was found wearing a size 10 black dress with a large peach and cream rose pattern.
Mr Graveling, from Norwich CID, said: "Cases like this are unusual as you would normally have friends or relatives concerned for the welfare of a loved one coming forward to report them missing, especially now we're almost a week on since she was found."
Police are treating the death as unexplained but said that although there were no signs of violence they were keeping an open mind about how she died.