University of East Anglia lake body: Shoe found by fisherman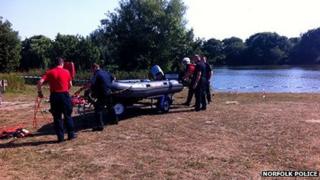 A shoe has been found near a lake where a woman's body was found on Thursday.
The dead woman, found by a fisherman in a lake at the University of East Anglia in Norwich, has still not been identified and police will examine the shoe to see if it belonged to her.
An angler found the shoe on Friday night near the jetty and police closed off part of the lake to search for other objects there.
A post-mortem examination has proved inconclusive.
The woman was found face down in the water by an angler at about 08:40 BST on Thursday and police said they were treating the death as unexplained.
She was believed to be in her late 30s to early 40s and had short dark brown hair that appeared to be dyed auburn or deep red. She was 5ft 7in (1.7m) tall and was found clothed.
Further toxicology tests were to be carried out to try to establish the cause of death.
Police said the woman was not being linked to any known missing people cases in Norfolk, Cambridgeshire or Suffolk.