Thetford West by-election: Labour now second-largest party on council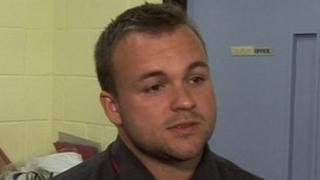 Labour has become the second-largest party on Norfolk County Council after winning the Thetford West by-election.
Terry Jermy won the seat with 1,071 votes, ahead of John Newton of UKIP with 900 votes on Thursday night.
The by-election was triggered by the resignation of Peter Georgiou, who won the seat for UKIP in May.
The win puts Labour on 15 seats and UKIP on 14. The Conservatives, who lost control of the council in May, are the largest party with 40 seats.
It is now run by a three-way alliance of Labour, UKIP and the Liberal Democrats, with support from Green and independent councillors.
The council is led by Labour's George Nobbs.
'Address the issues'
Mr Jermy, who is also on Thetford Town Council and Breckland District Council, had contested Thetford West in May, losing out to Mr Georgiou by just one vote.
But Mr Georgiou resigned less than six weeks later after it emerged he had been questioned for shoplifting last year.
He was not arrested and the matter did not go to court but Mr Georgiou said the price of remaining a councillor was "too high".
Mr Jermy said: "This time we have really explained to people the difference between the Labour Party and UKIP and given people a really strong reason to go out and vote Labour.
"They wanted somebody who can address the issues that they care about and they decided to put their faith in the Labour candidate which I'm very grateful for."
Mr Newton said: "I think Labour had more resources. They have put a lot of effort into it, as we did, but being a bigger organisation I think that played its part."
"EU migrants can vote and I think that Labour have chased these votes to try and change the balance," he added.