Medieval boat discovered on River Chet, Loddon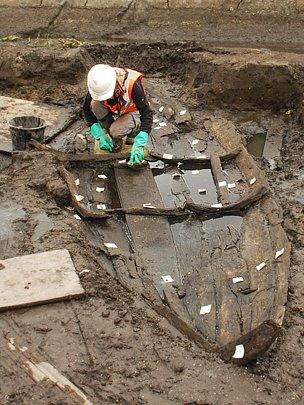 The remains of a boat which could be more than 600 years old has been discovered by a team excavating a new drainage dyke in Norfolk.
The oak timber remnants, dated circa 1400, were found near Loddon during work on the Broadland Flood Alleviation Project (BFAP) along the River Chet.
Archaeologist Heather Wallis said: "No boats of this date have previously been found in Norfolk."
She added it was a "unique opportunity" to "record a vessel of this type".
The BFAP is a long-term project to provide a range of flood defence improvements, maintenance and emergency response services within the tidal areas of the Rivers Yare, Bure, Waveney and their tributaries.
Paul Mitchelmore, from the Environment Agency, said the boat was the latest of "several interesting archaeological finds" encountered during the project.
He added: "We are very pleased to be helping to provide an insight into life of the past in the Broads at the same time as working for the future of the area through our flood defence works."
Ms Wallis said the boat is "particularly significant" being located within the Norfolk Broads.
"This has had a strong reliance on water transport and related industries, particularly since the creation of the Broads by peat digging in the medieval period.
"We think it dates between 1400 and 1600 AD and is very well preserved. It might have been used for carrying lighter good on the river."
The project team plan to recover the timber toward the end of the week but it would be a "tricky" operation.
"Some of the planks on the side of the boat are quite loosely in place so we'll be removing them separately to put into wet storage," said Ms Wallis.
"In the long term we hope it will go for conservation and end up in one of Norfolk's museums."
Related Internet Links
The BBC is not responsible for the content of external sites.