Sandringham Flower Show: Prince George doing well, says Charles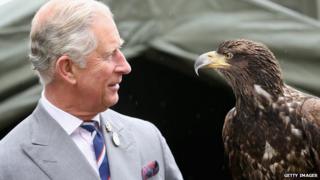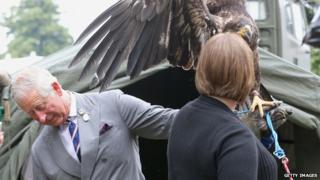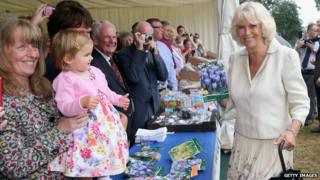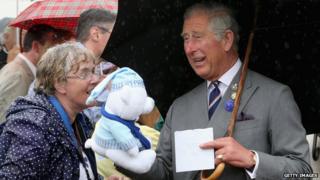 The Prince of Wales has told visitors to the Sandringham Flower Show that his grandson, Prince George, is "doing very well".
Charles, who attended the show with the Duchess of Cornwall, was given several gifts including a teddy bear wearing a bib to pass on to the newborn.
He asked Sheila Clarke, who travelled from Glasgow to present the toy, whether she "bet on the sex and name?"
"He seemed very happy with the present," Ms Clarke said.
About 20,000 people were at the annual show, which is held at the Queen's Norfolk retreat.
Charles also got to hold a two-year-old bald eagle called Zephyr, which almost clipped the prince while stretching her wings.
The Duchess of Cornwall, meanwhile, posed for a picture with a Jack Russell called Scooby.
Owner Yvonne Harradine, from Terrington St Clement, Norfolk, said: "She likes Jack Russells and I took a picture of her with Scooby last year but when it came out I realised I had cut her head off.
"It was very kind of her to agree to pose for another picture and I think it worked this time."
The couple, who arrived and left by horse and cart, viewed competition entries including vegetables, fruit, flowers and floral art.
The profits from each show are donated to local charities.