Norwich train station crash man 'insulted' by beer gesture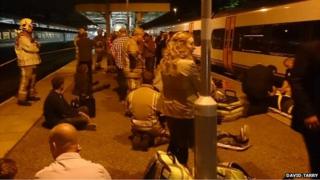 A man injured in a rail crash has said he he feels "insulted" the rail firm gave him vouchers and beer and did not call to "see how I was".
Eight people went to hospital after a moving train crashed into a stationary vehicle at Norwich station on 21 July.
Passenger David Tarry praised the staff who handled the crash's immediate aftermath, but believed the firm now just wanted the injured to "go away".
The firm said it was "sorry" if he was unhappy with the "genuine gesture".
'Woke up crying'
Mr Tarry, from Brundall, Norfolk, was treated for bruised ribs after the incident.
He said: "I woke up crying the night afterwards, which is not something you like to admit as a grown man. I had nightmares.
"I wasn't over impressed with the vouchers because I didn't particularly want to go on a train and although the ale was a nice gesture, we are a dry house.
"I feel that they have done just what they feel they have to - fire off some vouchers, send them a case of ale and they'll go away.
"It's insulted me to a certain extent. I feel that they don't care."
'Too fast'
Thirty-four people were on the train when it arrived at Norwich station from Great Yarmouth at just after midnight. Each has received a letter and £30 in rail vouchers.
The eight who were injured were also given beer.
Greater Anglia's managing director Ruud Haket said in a letter to passengers: "Although the investigations will not be completed for some time, I did want to provide a goodwill gesture to you and so I have enclosed a voucher for £30.
"I hope this goes some way to demonstrate our concern over this incident. You will appreciate this gesture is made entirely without prejudice and without admission of legal liability."
A preliminary report by the Rail Accident Investigation Branch (RAIB) found the train was travelling "too fast" and was unable to stop in time.
The trains remained upright after the crash. Police said the impact happened at about 10mph.
A Greater Anglia spokesman said: "We are sorry if Mr Tarry is unhappy with our immediate and genuine gesture.
"We will manage any claims or contact we receive from passengers appropriately and sympathetically."