Gorleston murder investigation linked with other death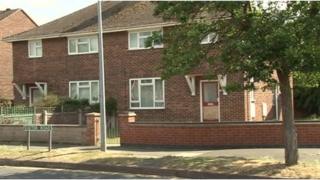 Two men who died in separate incidents in the same town were known to each other, police have confirmed.
Norfolk Police is treating the death of Malcolm Pratt, of Exeter Road, Gorleston, as murder.
He died in hospital last Friday after an assault at his home on 15 July. On 16 July, police found the body Andrew Whitmore, 46, in University Crescent.
Police said although the pair knew each other, the search for those responsible for the Mr Pratt's death continues.
Mr Whitmore's death was not suspicious, police say. A file on his death has been passed to the coroner.
A spokeswoman for Norfolk Police said the results of a post-mortem examination in relation to Mr Pratt were expected shortly.
"We are still seeking to establish the exact course of events around the death of Mr Pratt," she said. "Our inquiries are ongoing."
Police have asked anybody with information to contact them.
She said police had been to Mr Whitmore's home "as part" of the early investigation into the attack on Mr Pratt.
It is understood the two deaths are not related.