Alan Partridge: Norwich to get gorilla sculpture of DJ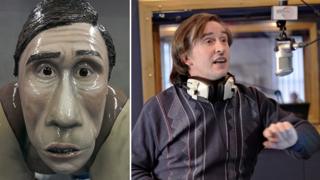 A gorilla sculpture painted as Alan Partridge is to go on display in the fictional broadcaster's home city.
The sculpture of the comedy character, played by Steve Coogan, will be unveiled on Wednesday in Norwich.
It will go on display outside the Hollywood Cinema in Anglia Square ahead of a premiere of Partridge's first film, Alpha Papa, shot in Norfolk.
The sculpture will be the 54th gorilla to go on display in Norwich as part of the Go Go Gorillas charity art trail.
Two weeks ago a glass-fibre gorilla decorated as Freddie Mercury was removed at the request of the Queen singer's estate.
'The weirdest gorilla'
An Alan Partridge gorilla was suggested as a replacement.
The Freddie Mercury gorilla was later returned to its site outside The Forum with a new paint job that saw its face redesigned.
But event organisers liked the idea of an Alan Partridge gorilla and commissioned father-and-daughter Phil and Sam Daniels, of Cawston, near Aylsham, to design it to tie in with the film premiere.
"It's amazing - it's so lifelike," said Martin Green of Break, the charity that organised the trail.
"It's the weirdest gorilla on the trail and we expect it to get a good reception when it goes on display."
Film producers Studio Canal agreed to hold the film's premiere in Partridge's home city of Norwich, rather than London, following a campaign by fans.
In his fictional world, Partridge was born in King's Lynn and grew up in Norwich before coming to prominence as a sports presenter on BBC Radio Four's On The Hour, and its TV version The Day Today.
'He'll be impressed'
This led to his own prime-time TV chat show, Knowing Me Knowing You With Alan Partridge, before his career faltered and he found himself hosting an early-morning slot on Radio Norwich before moving to another fictional station, North Norfolk Digital.
Coogan is due to attend the premiere in character and it is hoped he will meet his ape lookalike.
Samuel Le Good of Norwich estate agent Abbot Fox, which sponsored the gorilla, said: "I think he will be impressed.
"The gorilla looks absolutely amazing - it's Alan Partridge, 100%.
"A lot of us in the office are big Partridge fans. We like to support local charities and we're fortunate to be involved."
After appearing at the premiere the gorilla will go on display at Abbot Fox's office in Tombland.