Kieron Williamson: 'Mini-Monet' boosts earnings to £2m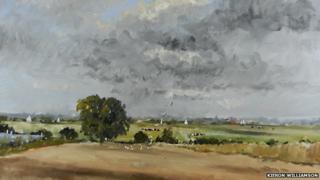 A 10-year-old landscape artist from Norfolk, dubbed the "mini-Monet", has boosted the earnings from sales of his work to almost £2m.
Kieron Williamson, from Ludham, whose latest exhibition opened in Holt on Friday, has sold more than 30 pieces from the show for nearly £450,000.
The first 23 pieces released to buyers sold for £242,095 in less than 20 minutes.
A gallery spokesman said Williamson's "raw talent" was "unrivalled".
Kieron started painting aged five when he asked his parents to buy him a drawing pad while on holiday in Cornwall.
Presenting his work publicly for the first time in 2010, when just seven years old, the exhibition sold out within minutes for £150,000.
'Famous painters'
Nicknamed after the French Impressionist Claude Monet, Kieron's work is now highly sought after by collectors around the world with some pieces held in the Royal Collection.
Adrian Hill, from the Picturecraft Gallery, said the paintings were "impressionist without being abstract" creating "a natural balance to his work".
Mr Hill said Kieron was following in the footsteps of the great painters like Picasso and Giotto.
"Picasso was nine years old when he had his first exhibition, Giotto was discovered by a merchant when he was 11 years old drawing in the mud and went on to become one of the most famous Renaissance painters of all time.
"These guys had a raw natural talent, they could mix colour, they had an ability to draw perspective and proportion - Kieron just has this ability to put those things together in a very natural way."
Michelle Williamson, Kieron's mother, said for the first time she had seen collectors explore the young artist's "investment potential".
"He's unrivalled by any other 10-year-old artist in the world and the support for him is overwhelming," she said.
"Before people would have been happy with just one example of his work, now it seems collectors are buying a number of his pieces at a time because of their investment potential."