Bryan Gunn charity work: Ex-Norwich footballer excluded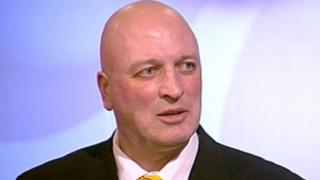 Retired footballer Bryan Gunn has been excluded as a trustee as part of an inquiry into a suspected shortfall at a charity website, it has emerged.
The Charity Commission is investigating Norfolk based www.charitygiving.co.uk over missing annual accounts.
The Dove Trust runs the fund-collecting website from offices at Bawdeswell on behalf of 74 charity campaigns.
The trustees have been told not to speak to news organisations while the investigation is under way.
Exclusion means the trustees cannot be involved in the charity's activities or speak to anyone about its work.
Ex-Norwich City goalkeeper Mr Gunn was one of four trustees of the charity.
The Charity Commission named the other excluded trustees as Keith Colman and Donna Naghshineh.
Bank account frozen
The Charity Commission became involved over concerns the last set of accounts for the Dove Trust were from 2009.
Pesh Framjee, a partner specialising in auditing not-for-profit organisations at Crowe Clark Whitehill, was sent in and found a shortfall of funds.
He recommended the trust's donations site was suspended immediately "after careful consideration and consultation with the Charity Commission", he said.
"An immediate and full analysis of the charity's current financial position is being undertaken.
"I am conducting a review to establish the extent of the shortfall and the donors affected."
His firm hopes to have enough information to make a statement by the end of July.
Daughter's memorial fund
A statement on the Charity Giving website, posted on Thursday, said that money coming in was being distributed not to the charity intended but to others whose payments had fallen due.
"The distributable assets held by the Dove Trust are less than the amounts payable to the charities that should be receiving funds.
"This is not acceptable. It is important that the amounts owing and available are reconciled before any further payments can be made," the statement said.
"The trustees could not satisfy the interim manager or the commission about the charity's financial position or the extent of the shortfall."
The commission has frozen the charity's bank account and excluded all trustees.
The website was suspended and the Dove Trust's banks were instructed not to receive further funds.
One of the charities affected by the move is Bryan Gunn's Leukaemia Appeal, a fund set up in honour of his daughter Francesca who died from the condition in 1992 aged two.