Norfolk Broads boat nest for swallow family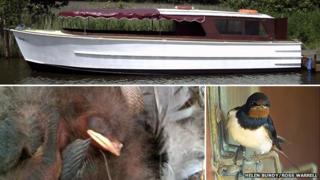 A family of swallows have become the unexpected star attraction on a Norfolk Broads wildlife boat tour after nesting in the craft's lifejacket locker.
Five chicks hatched at the weekend on their floating home, which carries passengers on tours along Horsey Mere.
Skipper Ross Warrell, 43, said: "The adults now clearly recognise the boat as they are now chasing flies around the dyke and bring them back as feed."
The chicks are likely to remain on the boat for three weeks before fledging.
Mr Warrell, from Sea Palling, in Norfolk, said the adult swallows had proved the ideal bug deterrent.
"The adults will now quite happily leave the boat to hunt and ferry food to the chicks - they follow the boat on whatever route I take," he said.
Floating family
"They provide a great bit of protection from anything that flies and bites. We don't get too many gnats up this way, but the parents snap them up as we travel up the dyke in order to feed their young."
Mr Warrell, a marine biologist who has been studying wildlife professionally for 17 years, said the species had been trying to nest on the Lady Ann for a number of years.
"They've been trying to nest on top of my fire extinguishers for the last five years, but I never thought this was a good place for them," he said.
"I moved it up to the ceiling so they couldn't nest on it and thought 'Aha, got you' - they thought 'Aha, we'll nest on the lifejacket locker port hole instead' - they were very determined.
"They are nesting just above the hinge on the port side - in effect it's like a very small cabin in the centre of the boat and they've made themselves at home under the eaves."
Mr Warrell said his passengers look upon the floating family "with disbelief".
He added having the "little beauties nesting aboard takes the meaning of a wildlife trip boat to another level".