Norfolk children's services director Lisa Christensen stands down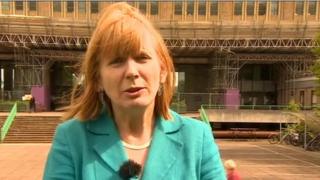 The director of children's services at Norfolk County Council has stood down, a week after MPs called for a change in leadership at the department.
Lisa Christensen's division was branded inadequate by Ofsted who found it had put vulnerable children at risk.
Ms Christensen, 56, said services were improving but not quickly or consistently enough.
She is taking early retirement and will receive two months' gross salary worth £23,248 in lieu of notice.
Norfolk County Council said it would make a one-off compensatory payment to the Norfolk Pension Fund of £116,398.
The children's services department, which is responsible for child protection, early years education and fostering, was inspected by Ofsted in January.
'Considerable concern'
Inspectors deemed it inadequate for the way it safeguarded children and said vulnerable children were being put at risk.
An inspection of 28 Norfolk schools in March prompted Ofsted to warn of its "considerable concern".
Last week, a statement issued on behalf of all nine Norfolk MPs said the situation at the department was "so serious" action was need "immediately".
The MPs said the department should have its leaders replaced with an interim board.
In response, Labour council leader George Nobbs said he wanted to concentrate on improving the service, saying the council was "much more interested in fixing the problem than party-political grandstanding".
Ms Christensen, who has worked at the authority since October 2002 and been director of children's services since 2005, said she had been "proud and lucky" to work with colleagues "whose dedication to achieving better outcomes for children and young people is evident every day".
'The right decision'
She said education and other children's services had been transformed, adding: "The evidence is that the actual outcomes for our children and young people have improved and risks have lessened.
"But many challenges remain and in some key areas of this large and complex service, improvements have not been fast enough, or consistent enough. I know securing them is a firm priority for the council and all our partners."
Councillor James Joyce, children's services cabinet member for safeguarding, said: "I respect Lisa's decision and think it is the right one, especially in light of the very personalised attacks made on her of late, and for the service going forward."
He said a robust improvement plan had been put in place.
"Norfolk's MPs were aware of this and that is why we felt their sudden grandstanding was not just unhelpful, but irresponsible," he said.
Mr Joyce plans to recruit a "top-level" interim director of children's services were under way and the council hoped to make an announcement shortly.