Norfolk County Council finance chief Paul Brittain to retire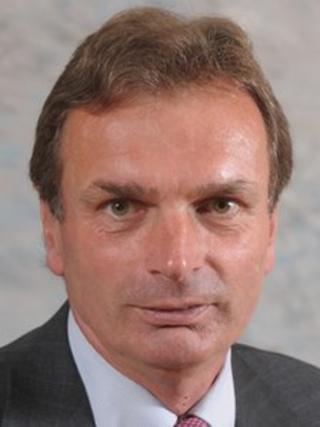 A council has "categorically denied" the planned retirement of its head of finance was linked to a £596m incinerator project.
Paul Brittain, 59, who has held the position at Norfolk County Council since 2007, is to leave in September.
He warned this month any decision to scrap the King's Lynn scheme could cost the council up to £90m.
A Norfolk County Council spokesman said Mr Brittain had agreed his retirement date "many months ago".
"I can categorically deny Mr Brittain's retirement is linked in any way with the energy from waste project and confirm that his retirement had been planned for some time," said the spokesman.
"I can categorically state that Paul had agreed his retirement date many months ago."
Mr Brittain said: "It has been an enormous privilege to have served as Norfolk County Council's head of finance and to have worked with so many talented teams across the organisation."
'The rockiest period'
His warning over the incinerator came in a briefing note to councillors, who have been considering whether to scrap the controversial project, approved by the previous Conservative administration.
Mr Brittain said termination fees could reach £90m, presenting the council with a "very significant challenge indeed" and weakening its "currently sound financial standing".
The council, now run by a three-party alliance of Labour, UKIP and the Liberal Democrats, subsequently commissioned an independent report to establish the full cost, and has deferred a decision on whether to pull out of the contract.
Labour council leader George Nobbs said Mr Brittain was an "outstanding public servant" and a "tough act to follow".
He said Mr Brittain had successfully steered the council through "the rockiest period for public financing anyone can remember".
He added: "Personally, in opposition and now, in administration, I have long been impressed with Paul's professionalism, sound and impartial advice to members and personal calmness, sometimes in the face of great odds."
He said the process of recruiting a new head of finance would begin shortly.
Earlier this month, the council put its search for a managing director on hold.
Labour has opposed the creation of the new role which would replace the post of chief executive.
The running of the council's children's services department has also come under scrutiny after it was branded inadequate by Ofsted.
Last week, all nine Norfolk MPs called for a change in leadership of the department.