Norfolk Bat Survey: BTO research indicates new species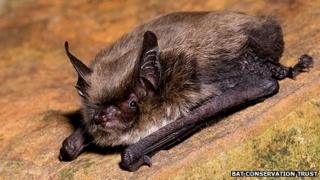 Echo-soundings recorded during Norfolk's "biggest ever bat survey" have indicated the discovery of a new species in the county, said experts.
Early analysis has revealed signs of the Alcathoe bat.
Researchers from the Norfolk Bat Survey have said they now need to catch the species in order to visually confirm its existence in the county.
First identified in Greece in 2001, it has only previously been recorded in the UK in Yorkshire and Sussex.
The survey, which began in April by the British Trust for Ornithology, will provide "the most accurate picture of bat distribution in the county", said senior research ecologist Dr Stuart Newson.
"We've no confirmed records yet for the Alcathoe bat in East Anglia, but we have had several recordings now which show its characteristics.
"First discovered in the UK in 2010, this species is very similar to Whiskered and Brandt's but with a higher end frequency in its echo-location. Confirmation through mist-netting [capturing] is now needed."
The Alcathoe bat is about the size of the end of a person's thumb.
Heather McFarlane, from the Bat Conservation Trust, said: "The Alcathoe bat is relatively new to science.
"First identified as a new species in Greece 2001, it was identified in the UK at sites in Sussex and Yorkshire by researchers from the University of Leeds in 2010.
"Since then local bat groups have been reporting more potential Alcathoe bats, this could be further evidence that this species is likely to be resident in the UK."
The Norfolk Bat Survey has so far analysed 45,000 bat recordings which have identified 12 bat species living in the county.
Organisers hope to study 100,000 sound recordings, made by volunteers borrowing acoustic recording equipment, by the time the survey ends in September.
According to researchers at the University of Leeds the UK now has 17 species of bat. All are protected by law due to their declining numbers