'Shakespeare in Love' Holkham naturist beach to close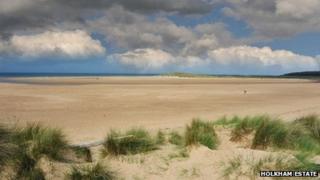 The naturist section of a beach made famous by the film Shakespeare in Love is to close because of complaints over people having sex in public.
Naturists will be banned from Holkham beach, Norfolk, from 1 July.
Holkham Estate's conservation manager Sarah Henderson said: "It is sad we have been forced to take this step due to the persistent anti-social behaviour of a minority of people."
British Naturism said the problems were not caused by genuine naturists.
Ms Henderson said the decision had been taken after discussions with police.
"The management and control of these activities has been an increasing concern to me and my team who look after the reserve so we have had to take action to ban all nudism," she said.
"The decision has been made to implement a total ban for the better management and future safety of all our visitors."
Pop video
Signs will be put up to highlight the change in policy and wardens will be patrolling the beach to make sure visitors keep their clothes on.
The western section of the beach has been a designated naturist area for a number of years.
Andrew Welch, spokesman for British Naturism, said the decision to close to naturists was an over-reaction.
"We understand the problems. They have occurred at other places - they are not unique to Holkham," he said.
"This is lewd behaviour - people having sex in the dunes. That's nothing to do with naturism and it needs to be stopped.
"We say the way to do that is through dialogue. We have been talking to Holkham for a few months and we can show them how the problem has been solved elsewhere."
The final scenes for the 1998 movie Shakespeare in Love, starring Gwyneth Paltrow and Joseph Fiennes, were filmed at the beach.
It has also featured in TV programmes The Avengers and Kingdom, and in the video for All Saints' hit Pure Shores.
It is part of Holkham National Nature Reserve, which attracts more than 500,000 visitors a year, and is a popular destination for school trips.
The dunes are owned and managed by Holkham Estate and the beach is owned by the Crown Estate and managed by Natural England.
A Holkham Estate spokeswoman said both organisations were consulted before the decision was finalised.