Norwich in Bloom awards garden in council 'fire safety' row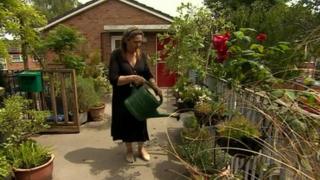 A woman presented with awards by a council for her garden has been told by the same local authority to take it down over health and safety concerns.
Kerry Annison said the warning by a Norwich City Council officer that part of the terrace is a fire risk was "absolutely ludicrous".
The Devonshire Street garden has won several Norwich in Bloom awards, presented by the mayor of Norwich.
Housing councillor Bert Bremner said the garden was "a joy".
Ms Annison's garden is formed by the balcony and landing outside her first-floor home, with pots and gates placed in a walkway shared by two other neighbours.
She said her neighbours were in favour of the garden, with a 92-year-old woman also told to remove items.
'Howled'
"I was out in my garden doing my watering when a woman asked me 'is this your garden? It's going to have to go'," said Ms Annison.
"It's something to do with access to fires, and access for neighbours - but it's 4ft (1.2m) wide."
She added: "I howled my eyes out.
"Then I got angry and thought 'I'm going to fight it'. I'm not going to let them take my garden.
"I think it's absolutely ludicrous.
"My neighbours love it. Strangers compliment it and ask to come and see it."
The garden is in a "best of the best" prize category of Norwich in Bloom this year, having won a category last year.
Mr Bremner, who is cabinet member for housing at the city council, said he had visited the garden as soon as he heard what had happened.
"In my opinion, the landing area and Kerry's garden is just a joy," he said.
"It's important that we hit the right balance of respecting an individual's desire to show pride in their home and making sure everyone can use communal space and that clear access is maintained.
"But in this case I don't understand how we got to this point and saying this garden is unacceptable sends entirely the wrong message when we want better neighbourhoods."
Mr Bremner apologised to Ms Annison and said he would be taking it up with officers "and suggesting we take a sensible approach to such situations".