Gorleston Minke whale washed up on beach is put to sleep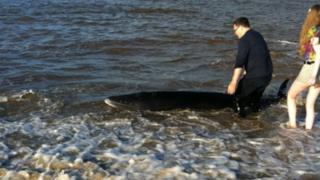 A young whale had to be put down by a vet after washing up on the Norfolk coast.
The Minke, which beached at Gorleston, was reported to the coastguard at 21:00 BST on Saturday.
British Marine Divers were called but were unable to return the 2m-long mammal to the sea.
A vet assessed the whale and a decision was taken to put it to sleep. Its remains will be taken to the Natural History Museum in London.
It is believed to be the same whale which had already washed up on a beach on the north Suffolk coast at about 19:00 BST.
Kevin Trent told the BBC he was walking along the cliffs between Lowestoft and Corton when he spotted the animal thrashing about by the shoreline.
"We got it back into the sea," he said.
"It took a lot of effort to push it out, and it was heading in the direction of Norfolk.
"It was my 18-year-old daughter Jordan who spotted it and we were so thrilled and happy to have thought we might have saved it.
"When I reported it, they said it was very unusual to see a Minke here and that a young one shouldn't be alone.
"It's sad that it didn't make it."